So a lot has happened in the past month.
The University of Southampton School of Medicine got back to me. Not unexpectedly, I was unsuccessful. I'm not sure how it feels for others in my position, but even though Southampton was at the bottom of my preference list, I was still a little disappointed.
KCL also got back to me. I was unsuccessful for their 4 year graduate entry medicine degree. However, they liked me enough to offer me a place on their 5 year medicine degree. Time to celebrate right?! I'm not so sure. Aside from it being 1 year more than I would like to do, as I already have a degree, I wouldn't be eligible for a student loan. What this means is that I would have to pay £9000 a year tuition fees without financial aid which is not nearly as much fun as it sounds.
On top of that, the offer was conditional on me achieving a pass grade in my masters by August 2015 however I'm due to finish my masters in September. They were really nice about it and said that my place would be automatically deferred for 2016 entry instead but that my place was guaranteed. Still. Not the most ideal situation. I want to study medicine and I want to study it now.
Barts and The London School of Medicine and Dentistry, 3rd on my preferences list, were the 3rd to get back to me. The short version? I didn't get in. The long version? I still didn't get in. But I wasn't nervous. Despite it not being ideal, I still had the King's offer. And I was yet to have my Warwick interview which, despite being my final interview, would definitely be successful. Right? Right? Can anyone else hear crickets…?
I had interview #4 on the 20th of March at The University of Warwick School of Medicine. This interview was at 8:30am, I honestly have the best luck and now I realise that sarcasm doesn't read well in text, and also followed the MMI format. Having an interview that early could only mean one thing: a nice solitary 3 hour long drive to Coventry the day before. All in all, I thought the interview went well although I can definitely point out a few mistakes I made. And that's it! No more interviews! Now was the time to wait for my fate to be decided.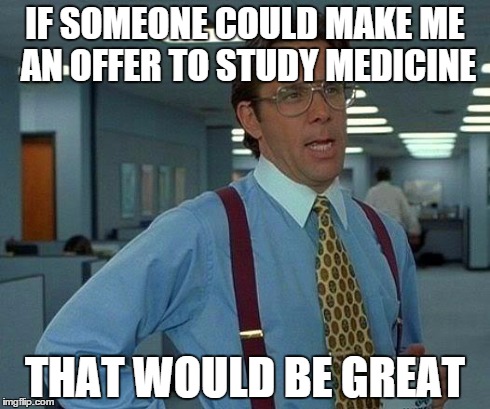 Fast forward to this week. People started to hear back from Warwick on Tuesday. The offers came out in dribs and drabs as opposed to in batches. Wednesday and Thursday came and went and I hadn't heard a word whilst more people were receiving offers. By Friday I had pretty much given up hope. That is, until 11:37 am when I got an email alert from Warwick. Is anyone familiar with the hit song "Lose Yourself" by Eminem? The opening lyrics directly applied to me in this situation. My palms were sweaty, knees weak, arms were heavy. I braced myself and opened my inbox. My eyes widened as I read the subject line: WARWICK OFFER FOR JOINT DEGREE OF BACHELOR OF MEDICINE AND BACHELOR OF SURGERY
Hmm, that doesn't quite feel right. Let me try that again. I got into medical school! I'm going to be a medical student!
That's better. So as I was saying, I got into medical school. And here I am two days later and it still feels so surreal. I'm sure that feeling will subside but for now I'll enjoy it. What's even better is that the offer is unconditional as I've already met all of the requirements. Now I've got a lot to sort out such as student finance and figuring out where I'll live in September.
Did they make a mistake in offering me a place? Maybe. After all, I am the guy who drove over his own mobile phone. I think it's best if I don't explain the story behind it. Not entirely sure how much confidence that inspires.
Being offered a place definitely makes me more motivated to finish my masters. Plus I finished the last of my exams in March, so all I've left to do is my research project.
I've definitely come a long way and can't wait for the next step on my adventure.